The Tale of Two O's: Orientation and Organization
Time to outflank downsides, focus on the customer and organizational needs, wants, and priorities before anything.
Think again if it is "only" need for digital transformation or digital culture? This tale of a two O's is critical, ground-breaking and a reality check for all big and small-sized companies.
Despite the indifferences, quality leadership, and wide-scale adaption, everything
goes perfect until you hit…culture clash!
When push comes to shove, the big-bash and small companies lose their control over circumstances without knowing its real issue, root cause, and solutions. If you are an industrialist who thinks that, money is superior and a controlling agent for all the problems then we surely have a problem.
McKinsey survey highlights that digital transformations are harder than traditional changes, such clashes and shortcomings in an organization are the reason why responsible companies are inevitable to digital transformation and its benefits. Yet, implementing the change and customer-focus strategy to unlock success is elusive.
The survey confirms that developing skills and efficiency within the organization is one of the worthwhile factors in a digital change effort. Why? Because the talent development practices and workforce planning is overpowering the people to work in new ways and in a mutual fair system
Digital transformation successful factors have factors:
This report highlights the critical factors of Orientation and Organization: we will discuss the agility of human connection, your take and global horizon; consider this as a new chapter in your "digital cultural change" playbook.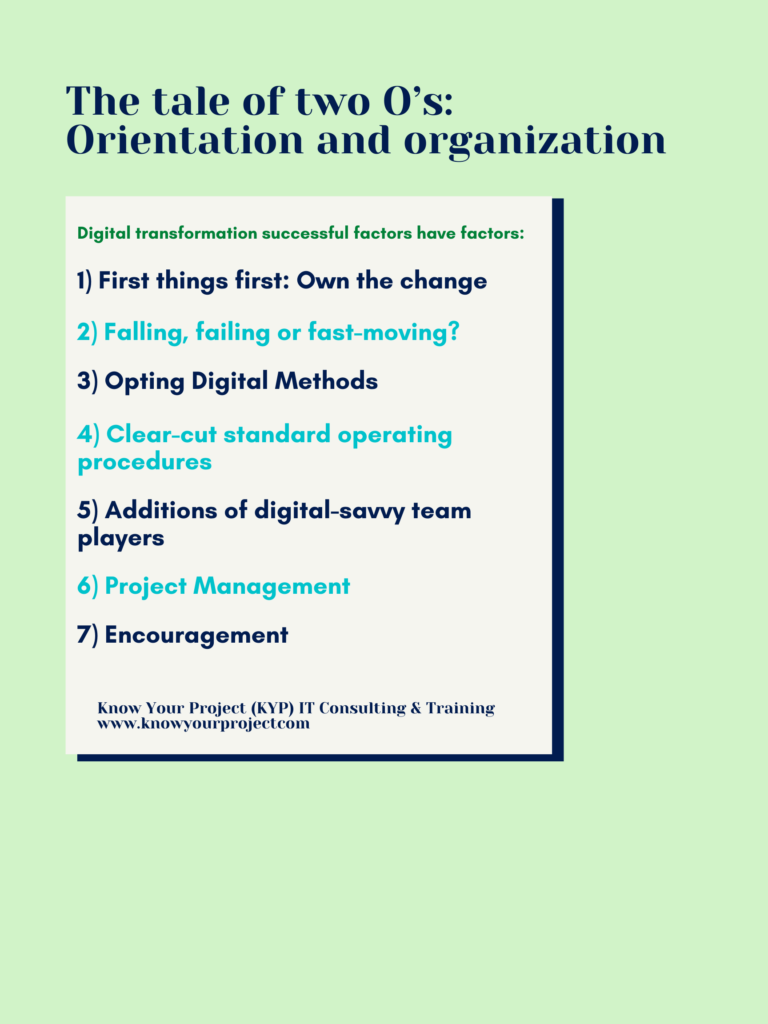 1) First things first: Own the change
How about putting the people "first" before the technology? The most difficult part is owning the changes; working in the same direction for years and years can be severely challenging in "re-adjusting."
An organization with advanced operational models requires a new mindset, skill, talent, and action plan on a single view of the customer. Perhaps, enforcement tends to start inward first, which most of the enterprises do not understand.
The two O's is the first stage where companies are not technology-focused but human-focused. If we look into the six managerial principles, it talks about "downward" communication, forecasting, and coordination. 
Better to ask these three questions before reinforcement:
Is your business have agility? If so, is it increasing?
Are your employees being ready to take organizational adaptability?
Are your customer and work-force well-aware and supportive of your next step?
Do you know digital transformation soulfully or you need help from the consultants?
2) Falling, failing or fast-moving?
The fear of taking risks, bringing formation to the life and the deficiency in departmental silos is taking you nowhere.
When the organization is ready to move in a fast-pace, employees become invincible. They start acting reluctant to any change, they stand against and feel over-looked. You see, the anatomy of digital transformation is not taking the blind bullet, even the digital-savvy companies like media, telecom, high tech is falling apart and struggling hard.
3) Opting Digital Methods:
Implementation of digital communication to make information accessible across organizations. Digital methods for communication influence great impacts and clear targets. By letting go of the old practices, the control supervision and traditional commands are ripped out by the overall cultural upgradation.
4) Clear-cut standard operating procedures:
Modification of SOPs to protect new digital technologies is important but forcing your customer and client to follow your self-made decision is like a nightmare. Here a clear-cut story-telling comes at the rescue: Owners need to pass the word in a brief description and should answer all "whys," and "how we will manage."
5) Additions of digital-savvy team players:
Is replacing the old people necessary? No, but adding new employees with the familiarity of digital transformation helps to equip the companies. Since a lot of companies either stay out of budget or are more sensible, they tend to hire consultants instead — which is much economical, beneficial and pulls down all the unwanted digital tensions.
6) Project Management:
Transformational activities are important to support digital change.
7) Encouragement:
The advice and suggestions from consultants will help senior managers to encourage their employees if they are running low and not ready to "accept" or move on.
The art of persuasion can only make their work-force into team-lancers, digital-opters, and convince them to perform new ideas, dedicatedly.
Three adaptations can heal the organizational damages:
To find opportunities for customer care:
Companies are far busy in implementing, investing, and sweeping the business landscape, whereas, the potential gap between the customer, employees, and management is the start of the conflict. In this case, hiring a consultant company is a big surge: as they understand customer's sentiments and stay firm and gentle towards what they expect.
The right digital culture:
It's time to beat a dead horse and move from traditional technologies to modern ones. An organization with "correct" technology is likelier to achieve goals in time and can smartly use hard-to-handle technologies like The Internet of Things, Advanced machine-learning tactics, and Artificial Intelligence.
Consultants as organizational-guardians:
While the workers say that digital transformation is not a long-shot in improvising performance, you need "digital transformation consultants" to help in reporting success.
Let us explain in the following chart that how two O's are making differences:
| | |
| --- | --- |
| Past: Before the change | Future: After the change |
| "We do not need to ask customers and workers about any change." | "What is the success without knowing the other side? We must talk to our clients and workers to stand together." |
| "Do not tell us what to do, we know what's best." | "Let's have a one-on-one conversation with each department and evaluate what's best for them and what they need." |
| "We make decisions and employees need to stay in board and follow." | "Executives must listen to what everyone has to say, whether it is the new idea or initiative." |
| "Directors does not know who is who, neither they are familiar to any employee." | "Our directors communicate on regularly basis with employees, and see how everyone at their respective dept are doing." |
| "We hire more in-house employees, no matter what." | "We hire consultants, trainers and project managers to get our projects done in a quick-span—Consultants value us and we value their efforts." |
| "Departments does not need to know the new innovations, let it as it is." | "We believe in collaborations and digital communication, we are family!" |
| "We focus reports, data analysis and our profit." | "We anticipate trends, predict the future and focus on what may customer want in future, we read our people, teams and their minds." |
It is time for you to say, "let the past, stay in past" and start evolving in modern dimensions, keeping teams, technologies and customer-centric strategies together before its too late.
Series: From the five-critical-factors-of-digital-transformation #5CritialFactorsofDX 1/5